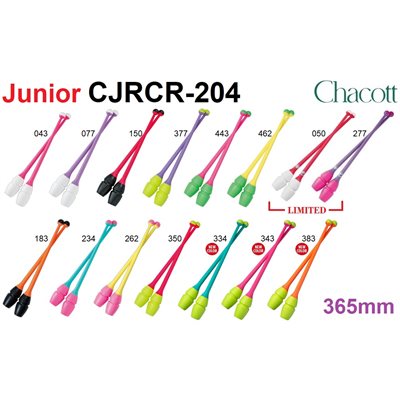 Press and move to zoom.
Mouse over image to zoom.
Chacott Junior Rubber Clubs (365 mm) (Linkable ends) 301505-0004-38
Product Code:CJRCR-204-CHOOSE_ONE
Junior Rubber Clubs by Chacott 301505-0004-38 (5338-65204), Model Number CJRCR-204:
Chacott's rhythmic gymnastic fibre-reinforced rubber clubs are bound tobe a sensational performance with beautiful colours, eye-catchingdesign!
The clubs' high-end elastomer (soft memory foam plastic) tips featuresan excellent weight balance to promote superfluous precision throughoutevery routine!
Each club is flown in from Japan at 365 millimetres in length, and an average weight of over 100 grams.

Linkable ends enable expending for performance.

It's your turn to shine with the following possible colours: 043 (91) White x Pink, 077 (84) White x Purple, 083 (86) White x Apricot, 150 Black x Light Orange, 183 Black x Apricot, 234 (85) Pink x Peppermint Green, 262 Pink x Yellow.

Size: Length 365mm / Weight 100g and above
Material: Shaft: Fiber-Reinforced Polypropylene (FRPP), Body and head: Elastomer
Minimum bounce. Eye-catching ends. Connectable hollow head. Safer material.
You may also be interested in